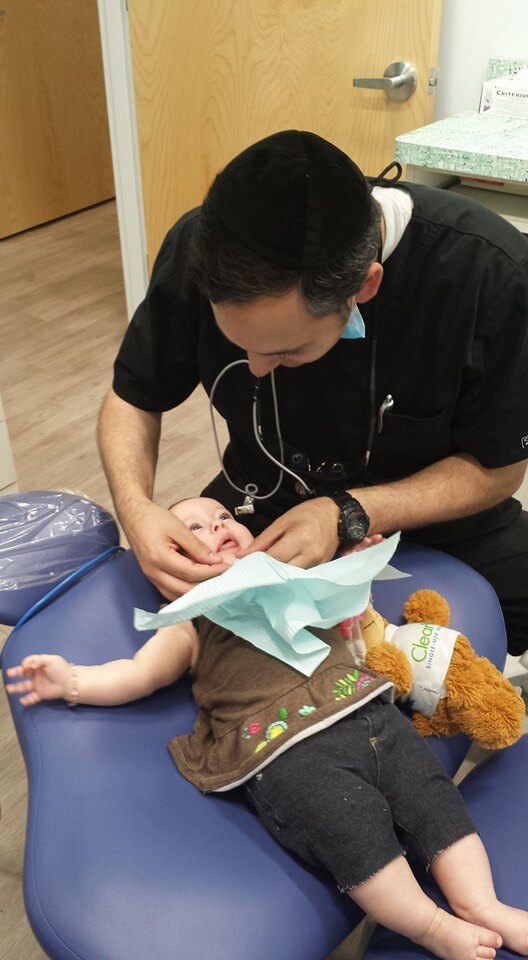 Dr. Eyal Simchi
---
The Magic of Making Children Feel Special
---
Dr. Eyal Simchi is living proof of someone who lives life by example. His excellent craftsmanship and work ethic came at an early age from his father, a custom cabinet maker. His demeanor and love of children comes from his mother, an elementary school teacher who never fails to bring a smile to the faces of her students.
Dr. Simchi attended UMDNJ-New Jersey Dental School where he was elected to serve on the ethics committee. He maintained Dean's List throughout his 4 years of dental school and received the Award of Merit from the American Academy of Esthetic Dentistry.
He was selected to join the NJDS Gold Club, as well as Gamma Pi Delta Prosthodontics Honor Society. Although Dr. Simchi excelled in prosthodontics, a childhood full of brothers and sisters established his true passion: pediatric dentistry. Dr. Simchi went on to complete a two-year pediatric dental residency training program at Maimonides Medical Center. He then continued to advance his specialization by becoming Board Certified.
Having completed his training, he has worked in several prestigious pediatric dental offices before having the opportunity to open Riverfront Pediatric Dentistry.
Dr. Simchi continues advancing his knowledge in Pediatric Dentistry with continuing education classes, incorporating the latest technology and techniques from all over the world. Dr. Simchi is a noted expert on HealthTap.com and lectures on different topics related to Pediatric Dentistry. He was recently featured in the NY Times article on his use of Silver Diamine Fluoride.
From a waiting room filled with activities and exciting aquatic-themed décor to his awesome magic tricks, Dr. Simchi has the unique ability to make each child look forward to going to the dentist.
Residing in Passiac, New Jersey with 5 wonderful children and his wife Rochie, who is a certified Labor and Delivery nurse, Dr. Simchi's heart for children beats strong. Nurturing children isn't simply what he does: it's who he is!
---